Are your kids budding foodies with a taste for adventure? If so, mark your calendars for Sunday September 17th, because Chiq, the renowned Japanese restaurant in Muthaiga, has an exciting treat in store for your little ones. Say hello to the Samurai Sushi Kids Club!
From 11 am to 2 pm on the 17th, Chiq's Samurai Sushi Kids Club is offering a unique opportunity for children to dive into the world of sushi making. Led by seasoned Itamae (sushi chef) masters, this event promises an immersive and educational experience that your children will cherish for a lifetime.
The Samurai Sushi Kids Club is more than just a cooking class; it's a chance for kids to learn the art of sushi making from the experts. They will get hands-on experience in creating their own delectable sushi rolls, mastering the art of rolling, slicing, and assembling these delectable Japanese delicacies.
Not only will they learn the techniques, but they'll also learn about the cultural significance of sushi in Japanese cuisine. It's a fantastic opportunity to expand their culinary horizons while having fun in a vibrant, authentic setting.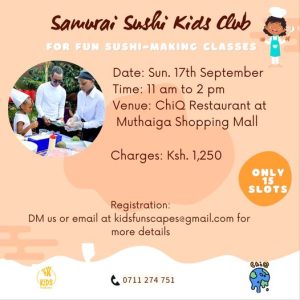 And the best part? Your little chefs-in-training get to take their sushi creations home to share with the family, showcasing their newfound skills and creativity.
Limited slots available. To secure a spot for your child, be sure to book before September 16th. For inquiries and reservations, call 0711274751.