The grand finale of Tusker Oktobafest 2023 is set to dazzle with a stellar lineup of over 100 acts. Starting the musical journey on Friday, October 27th, this event promises a trip down memory lane with legendary artists like Nameless, Jua Kali, Kalamashaka, Necessary Noise, DNG, DJ MOH, Gravitti, DJ Double Trouble, DJ Gordo, DJ Leather, DJ Wije, Baba Dede, Batshtma, Braines DJs, Iborian, Miss Bune, One Down, and DJ Lans, among others.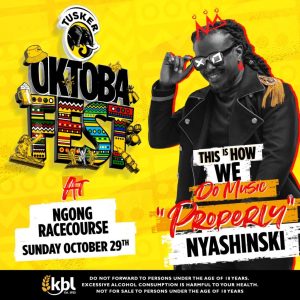 Day two will be ablaze with energy as Diamond Platnumz takes the spotlight, headlining a powerhouse roster that includes Bensoul, Mejja, Ndovu Kuu, DJ Xclusive, DJ Joe Mfalme, Mwalimu Racheal, DJ Crim, DJ Deedan, DJ Tibz, DJ Grauchi, DJ Twinzzle, Buruklyn Boyz, Boutross, DJ Hypnotic, Fathermore, DJ Cavi, BV Accurate, Maya Amolo, Barak Jacuzzi, SS Barz, Vijana Barubaru, DJ Most Wanted, Ayrosh, Kaneda, DJ Alimo, DJ Kingsley, TK Lyon, Zaituni, Heavyweight, Earlwin, DJ Gatmo, DJ Rabai, DJ Sessi, DJ Klay, Mura the Deejay, DJ Ally Fresh, Kay the DJ, DJ Drazen, Shanga Tatu, and DJ Fita.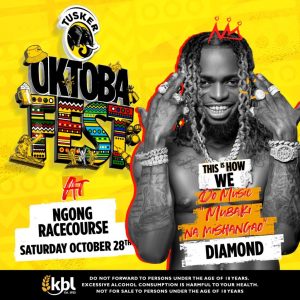 The last show on Sunday will feature stellar performances by renowned artists such as Nyashinski, Khaligraph Jones, South Sudan's John Frog, Wakadinali, Nviiri, Kwambox, DJ Suraj, Foozak, Wangechi, Charisma, Chipi, DJ Shawn, Breeder LW, Masauti, DJ Mish, DJ Deewiz, Gudah Man, DJ Perez, Mista A2, FreshKid Venom, Sir M, Korbs, Sabi Wu, Kinoti, Ethan Muziki, PHY, Mutoriah, Costa Ojwang, Block A Beats, Mshikajy, DJ Rudeboy, Don the Black, DJ Payne, Wandat, AAHIL, Stevie K, Sultan, and MGM.
Ticket details