Entertaining kids in Nairobi can be a tad bit expensive. If your finances are tight, Kidventurous along Garden Estate has a large, outdoor playspace that has something for everyone—from a special corner for babies to slides, bouncy castles, trampolines, swings and train structure for bigger kids. All this for 500 bob and Ksh 300 for a lunch package.
They also have a
shamba
corner where kids can pet bunnies and lambs and take pics with the fowl. Kideventourous offers shamba tours and kids are taught about animal rearing and vegetable harvesting. A shamba tour will set you back 150 bob.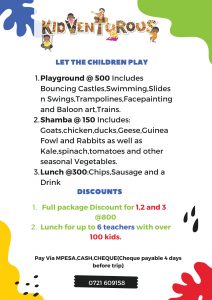 Clowns, kid friendly music and face painting for birthday parties can be arranged on request.
Great for families with kids of varying ages and parents/guardians get space on the side to keep an eye on their brood.
Weekends can get a bit crowded so be sure to book in advance by calling 0721-609158.