Global Ambassador of Scotch whiskey distiller William Grant & Sons, John Quinn recently made a stop in Nairobi with the aim of sharing the story of the legendary triple distilled, triple blend Irish whiskey, Tullamore D.E.W. with Kenyan whiskey enthusiasts.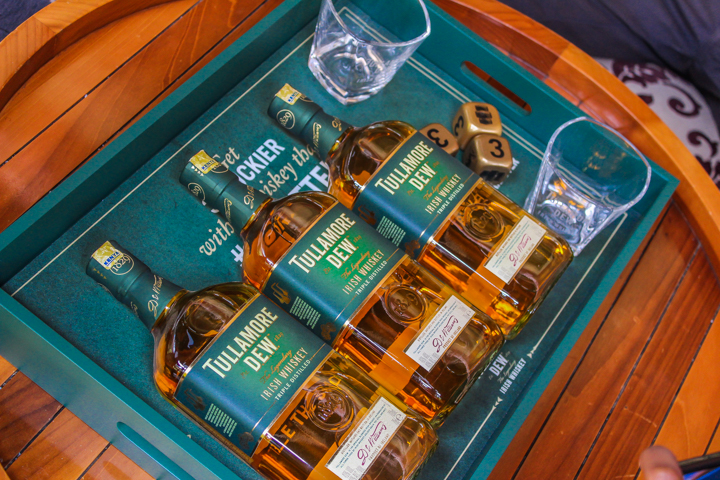 Photo by Teddy Muraya
The travelled Irishman has over 30-year experience as a whiskey evangelist. We sat down with him – over a glass of whiskey, of course – for a one-on-one chat about the liquid sunshine, and the eternal question, neat or on the rocks?
What sparked your interest in whiskey?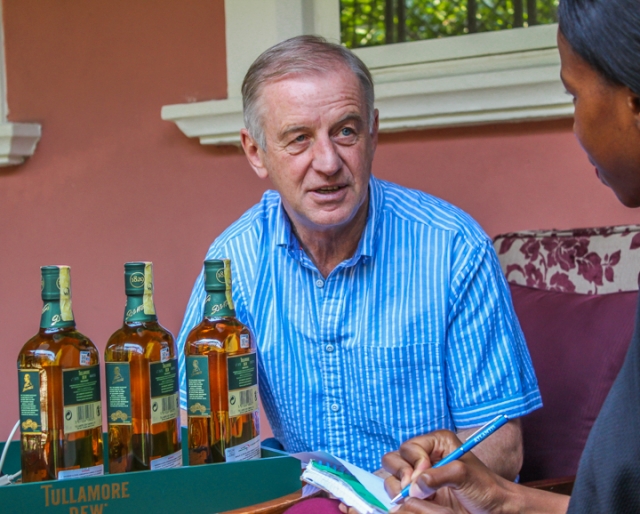 Photo by Teddy Muraya
Haha, it's not the most romantic story: I started as a young boy at 17 years in 1974 where I was lucky to get hired at an Irish distiller group and started as a junior officer and grew by way through the ranks- sales and marketing and finally brand manager. At this point, I thought it was a good time to go to university so I worked through the day and did my classes at night -it was hard work by it was worth it because my company noticed by growth.
How would you describe Tullamore D.E.W. whiskey taste to an amateur?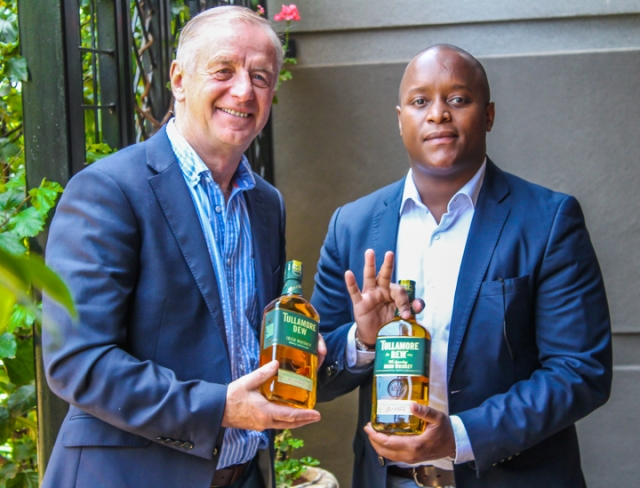 Photo by Teddy Muraya
That's a really good question. I would describe it as being kind of sweet, vanilla sweet in a way- not a sugary sweet. It has freshness to it which I would describe as a fruity freshness, like a green apple or an orange peel kind of freshness and it also has a spicy taste to it and there's a reason to that. The reason is that it is a blend of three styles of whiskey's: grain is sweet, malt whisky is fruity and pot whisky is spicy so it's going to have all those three in there: it's a complex blend made out of three types of wood and that gives it that freshness. But it's a very approachable whisky- its tripled distilled and very smooth.
What makes Tullamore D.E.W stand out from other whiskeys?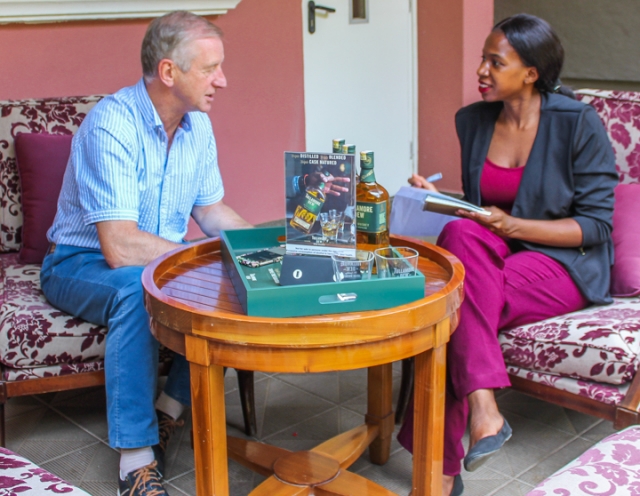 I like the taste of course, and I like the taste of many whiskeys. I also like the complexity of it because it has all those features. On the other hand, it's the only whisky in the world that's made; triple distilled, triple blended and triple cask matured and that's what makes it really interesting. The barley is grown and malted in Ireland, it grows from grain to glass. The distillery is very efficient in terms of consumption- we have a new distillery- the carbon footprint is very small.
How do you like your whisky? Neat or on the rocks, why?
I generally like it with just two cubes of ice. But that's how I drink it because I know how it tastes. If it was my first time, I'd drink it neat. I also drink it with apple juice- it's really nice! Sometimes I have it with a beer because they both balance.
How regularly do you drink whiskey?
Haha, are you my wife? Anyway seriously, if I'm doing work with whiskey I will drink it. On average I can have three times a week like Thursday evening I might have some, Friday or Saturday and maybe even Sunday I may have a glass just to celebrate the weekend that's passed. If I drink frequently one of the things I don't do is drink a lot of it- I'm sipping it, I'm enjoying it, I'm savouring it, I really love the taste of it. I take small quantities throughout the week and I'm happy to share it with friends and family.
Which parts of the world has your whisky expertise taken you to and which country counts as your best?
I think I've been to over 90 countries, today might be 91. I've been everywhere in Latin America, many countries in Asia, every country in Europe, North America, Scandinavia. If I was to pick where the most successful business has been, I would say Czech Republic- it's the biggest selling whiskey in the country- I was involved in developing and building that business market and at that time I was in the commercial part of it, now I'm the global brand ambassador so somebody else does the worrying and talking just like I used to. I have enjoyed taken it to places like Japan, China, Vietnam. African countries- South Africa and now Kenya.
Which are the top three whiskey cocktails you would recommend for ladies?
Wow, so I recommend the apple ju'. Especially in a country where you have lots of hot weather: Whisky sour is also a good pick: Irish legend made out of raspberries and rosemary leaves on top its really nice and Manhattan because of the sweet vermouth- its's sweet.
Which whisky cocktail can someone easily make at home with the Tullamore D.E.W whiskey?
The apple ju' again. You simply get a tall glass, put some ice cubes in there, pour in the whiskey over the ice and freshly squeezed apple juice and a few drops of angostura bitters, stir it around and a slice of apple on top just to make it cute.
What advice would you give someone who would like to follow the same career path?
It's hard to take the same career path as me because I come through a log history was lucky I got breaks and I was able to move a lot of positions in the company but if you dike to take a career path as an ambassador you'd start to understand about whiskey you'd probably go and listen to someone like me talking, trying to learn the history of the brand, understand the different tastes of different whiskeys from different countries. You also have to be the type pf person who is comfortable being in front of a mic and addressing a crowd because that's been majority of my life- don't be shy.
Apart from being a whiskey extraordinaire, what do you like to do during your spare time?
Haha, not a lot because I'm travelling a lot, when I was young I played a lot of sports- I used to ski. I love playing golf, but I'm a hopeless golfer. One time I learned how to play the guitar and again I'm very bad at playing the guitar, I also love to sing, to myself of course I'm a terrible singer haha.