In the same way conventional sports like football and boxing hold tournaments for top players to compete for cash prizes and notoriety,
esports
does the same; bringing individual players or teams of players together for battle in competitive video gaming on a professional level. The gaming wave has become wildly popular in the country. Here are some of the biggest esports names in in Kenya:
Name: William Ondiek
Gaming Pseudonym: PR1EST
Plays: Mortal Kombat
Music producer and pro-gamer PR1EST's sci-fi fascination made him a casual gamer from childhood. His friends as a kid were gamers too and from time to time things would get competitive among them. He's part of the pro-gaming
Tekken254
gaming community. PR1EST has won several esports
tournies
in Nairobi but his biggest achievement was when he placed 2nd in a continent-wide
Mortal Kombat
tournament organized by the
Pro Series Gaming team
.
MOBAs
(Multiplayer Online Battle Arenas) are the biggest thing in e-sports right now. On the rise in popularity, PR1EST says,
"The emergence of better internet connectivity in Africa has opened up another way for African youth to share quality time with friends through gaming. This has led to the rise of MOBA and MMORPG games in Africa; which is great for the African esports scene since more digital traffic is engaged. Smart investors will soon see the opportunities created by the video game industry. The esports scene in Kenya is rapidly catching on thanks to organizations like Ace pro gaming and Pro Series Gaming
.'' Tournament winnings make up the larger chunk of his income. Being part of an esports team also comes with contractual allowances that give him incentive to train and get better. The exposure also allows him to act as a brand ambassador for gaming companies as a way of earning extra cash. His fave games:
Mortal Kombat & Tekken
Follow him on Instagram- @pr1est.ke & Twitter: @PR1EST254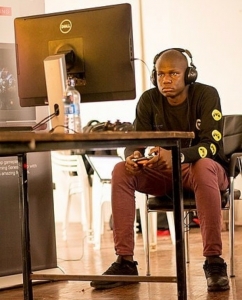 Name: Sylvia Gathoni Wahome
Gaming Pseudonym: Queen Arrow
Plays: Tekken
21-year-old Law student
Sylvia Gathoni
is
Tekken
royalty! Thriving in a testosterone driven industry, she got into gaming through her elder brother's influence. Some of her early memories recall discs with games like
Super Mario
,
Contra
&
Tappers
and of them playing cartridge console games. When they got a PlayStation, she immersed herself into Tekken 5. On joining college in 2016, she began looking into eSports tournaments in Kenya. In 2017 she competed in the first edition of the East African Gaming Convention and placed fourth. Not bad for her first
Mortal Kombat
tournament. Motivated, she got
Tekken 6
on
PS3
and began putting in some work. She later participated in the Tekken 254 tournament. Although she didn't come out tops, that's when she got her big break.
XiT Woundz
, a professional eSports club based in New Jersey, USA signed her. She's been participating in
tournies
ever since. On her favorite game she says, "
Hard to choose. I love different games for different reasons. But I'd have to say Assassin's Creed is pretty awesome. And it has educational value too! I know more about the American, French and Industrial Revolutions, the Italian Renaissance, the Golden Age of Piracy and Ancient Egypt from playing the franchise. Not to mention I picked up some languages, like Italian, from playing
''. She says.
Follow this Tekken pro on twitter: @MalikaSiheme98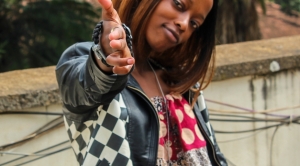 Name: Peter Mumu
Gaming Pseudonym: Flossin Mauwano
Plays: FIFA
You've probably seen his graffiti pseudonym all over the city. We didn't delve into that. We asked him how he got started in esports. "
I initially played FIFA for personal amusement and as a hobby up until 2013 when I went to a local tournament to test my skill. I won Ksh 20,000 shillings at the then Inntech gaming café in a tournament presented by 2cheze events. Since then, I have been playing FIFA competitively -whether I'm playing with friends or participating in local tournaments''.
He says.
Flossin
's biggest highlights include winning Three PS4 consoles at the
scoring gaming lounge
in 2015. He also won the Gold cup hosted by
Green Sports Africa
. In 2016, he placed third in
Vivid Gold's
Ksh 100,000 tournament. Last year he won Ksh 100,000 shillings in the
Tric Gaming Café
tournament that drew nearly 100 participants. He was a finalist at the
East African Gaming Convention.
This year, he won the inaugural power gaming convention tournament at KCB sports club and currently sits top of the FIFA University League organized by
Ace Pro Gaming
.
His networks:
Pro Series Gaming, Power Gaming Convention, Tric Gaming Café, What's Good Studios, Ludique.
His competition:
 FIFA champs-Black Havoc, Kev CK and EpsilonMarvo. In Mortal Kombat: Aryba Stacks, Adam and Krach the beast. When it comes to Tekken 7- Frost and Mickey. Big names in the e-sports industry in Kenya. Flossin will be representing Kenya at the African e-sports championships this October against 23 other African gamers for the FIFA19 crown. See how he's prepping by following him on twitter @MoM_Mauwano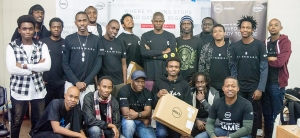 Name: Hirsi Ali
Gaming Pseudonym: HirsiHD
Plays: Fortnite and Call of Duty
HirsiHD'S
pro-gaming career started out when he got
GameCube
as a kid. Naturally, he's racked up a few highlights as well: '
'Hmm there have been quite a few. Tournament wins like NAICCON and the massive PSG WW2 LAN aside, being among the top 100 in Africa on Fortnite Competitions ranks pretty high. The numerous print and TV features have also given me great memories to look back on. But if I had to pick only one achievement, it would probably be my organization, (The Watchmen) and how far we've brought it,
"
HirsiHD
says.
Â
He says the pro-gaming scene in Kenya is fairly large and is growing every day, but in his view the major thing Kenyan eSports lacks is organization. But he adds that with this sorted, a lot of people are in for a good surprise. He adds that the availability of local tournaments will help bring more international level players out to events.
"In the next few years, pro-gaming is going to be big. I still vividly remember us hosting our first LAN tournament in 2014 with borrowed PS4s and a school projector. The strides that have been made since then are quite frankly insane. It's extremely exciting to be part of something this massive.''
He has been playing
Minecraft
lately because it's a blast from the past and a good change of pace from the competitive
Fortnite and Call of Duty
. It's a great way for him to relax while prepping for upcoming tournaments. Catch his power moves on social media:
@HirsiHD