For parents seeking a memorable birthday idea for their little ones, Caroline's Bakery offers an enticing and imaginative experience that transcends the ordinary; a unique baking birthday extravaganza.
Caroline's Bakery presents the Baking Birthday Party package, an event designed to captivate the hearts and taste buds of children. The bakery's ambiance, filled with the irresistible scent of freshly baked goods, sets the stage for an extraordinary adventure.
The festivities commence with a hands-on baking session, guided by skilled pastry chefs. Young bakers are introduced to the art of creating delightful treats, including vibrant cupcakes and delectable cookies. It's not just about baking; it's about crafting cherished memories.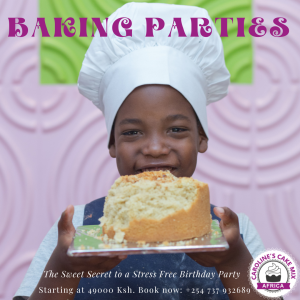 The highlight of the party is the decorating station, where kids can embellish their edible masterpieces with a medley of frosting, sprinkles, and various toppings. This creative freedom fosters a sense of wonder and delight.
A stress-free experience for parents, Caroline's Bakery takes care of every detail, from setup to cleanup, ensuring a hassle-free experience for parents. They can relax and relish the joy on their child's face while the little ones are immersed in a world of culinary delight.
Secure your sweet adventure today! Caroline's Bakery offers a one-of-a-kind celebration that will leave a lasting impression. This confectionery wonderland promises a sweet, imaginative, and memorable birthday experience, guaranteed to be a talking point for years to come. Join in on the celebration of sweetness and creativity and let your child's special day become an unforgettable baking adventure by calling 0737 932689