Boyz II Men, the renowned American vocal quartet that rose to prominence in the 1990s and achieved great success as a rhythm-and-blues group, are headed to Nairobi, Kenya for the highly anticipated second edition of the Stanbic Yetu Festival. Taking place on Saturday, June 10th, 2023, this concert is expected to be the biggest musical event in Kenya for the year. It marks the beginning of their first-ever Africa tour, which will also include performances in Uganda and South Africa.
The Stanbic Yetu Festival, affectionately known as the Boyz II Men concert, will not only feature the talented quartet but will also showcase some of Kenya's finest DJs. Among the lineup are DJ G-Money (Conrad Gray), DJ Forro (Andrew Waititu), Dj Shaky (Allan Wainaina), DJ Grauchi (Zacchaeus Ngani), CNG (Charles Githumbi), and DJ Cream (Derrick Kamau).
Boyz II Men have gained worldwide recognition for their smooth soul harmonies and captivating new jack swing beats. They hold the remarkable distinction of being the most commercially successful R&B group in history.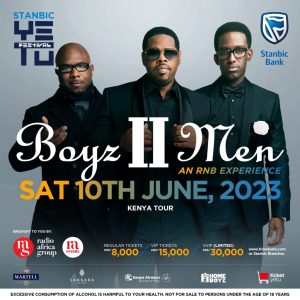 With over 20 years in the music industry, they have achieved record-breaking hits and amassed numerous prestigious awards. Originally forming as Unique Attraction in 1985 by childhood friends Nathan Morris and Marc Nelson at Philadelphia's High School for the Creative and Performing Arts, Boyz II Men have become a major source of inspiration for countless pop and R&B superstars.
The excitement surrounding the Boyz II Men concert is palpable, as fans express their nostalgic anticipation on Twitter and other social media platforms.
Which Boyz II Men jam is your favorite?
Featured image: NINA WESTERVELT/WWD/SHUTTERSTOCK