Kenyan multi-talented artiste Muthoni the Drummer Queen is back with double releases KENYAN MESSAGE and MILLION VOICE off her upcoming album SHE. Having cemented her place as a leading, out-of-the box, genre defying artist of global appeal,  Muthoni teams up Swiss producers Greg "GR!" Escoffey and Jean "HOOK" Geissbuhler on these two smash hit singles. Muthoni, at once the observer and the subject creates a banging, socio-politically charged hip-hop anthem for Kenya titled KENYAN MESSAGE. The song addresses the political class and citizens of Kenyans equally, questioning the state of the Kenyan society and highlighting the endless scandals plaguing the country. Most notably, Muthoni features the infamous doctors' strike-turned-movement for better systems in Kenya that had gone unresolved for 100 days from December 2016 to March 2017. The video which was directed and shot by David Baumaan of Artaban.tv is a stunning representation of the message, with Muthoni's lead role supported by members of MDQ's Swiss performance crew- Felix Fivaz (Drummer), Tali Cabral & Daniela Dias.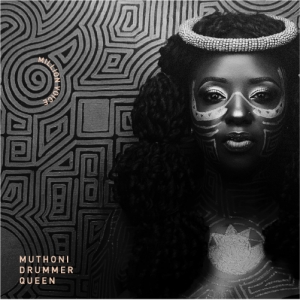 The song pays tribute to the classic "The Message" by DJ Grandmaster Flash and the Furious Five; arguably hip-hop's greatest innovators, and the sentiment sadly rings true, with a seemingly never-ending stream of scandals crippling the public sector and affecting the lives of millions of Kenyans. Aptly, the song ends with the haunting statement "We. Can't. Breathe" A dire conclusion to the witty-yet-contemplative narrative of modern-day Kenya. KENYAN MESSAGE Official Video on YouTube:
https://www.youtube.com/watch?v=CveeHBmKa5M
As a follow up, Muthoni teamed up with NuNairobi's finest: Steph Kapela, Shukid and Tunji to deliver a flawless remix to the already impeccable "Kenyan Message". The song is a total flip of the original song though maintaining the original intention and message with the beat going hard and heavy and flipping to suit each rappers flow. Shot at The Alchemist, Nairobi the video was directed by Skinny Film Maker and Greg Escoffey. KENYAN MESSAGE Remix Official Video on YouTube:
https://www.youtube.com/watch?v=062xt5sFWKY
MILLION VOICE is the second single from the rap Queen Muthoni Drummer Queen, and a forewarning that the upcoming concept LP entitledÂ
SHEÂ
will certainly be a game changer. On the incendiary, reggae-inflected anthem, Muthoni says, "
the song pays tribute to the millions of invisible, ordinary, everyday people doing whatever it takes to put bread on the table and create an impactful life, in spite of, or maybe because of, the circumstances that they found themselves in.
" The track thoroughly exemplifies GR & HOOK's signature style down to the bass heavy tee: a hooky, radio-friendly sound that will effortlessly pack the dance floor at primetime and put the best of sound systems to the test. Listening to this you sort of wish that the 80s boombox and car system culture would come back! MILLION VOICE Official Video on YouTube:
https://www.youtube.com/watch?v=f-z2qtW0Pxc