Kasuku House is a lovely 4 Bedroom House with 1 bedroom guest house. The house is located overlooking the mangroves and Mida Creek. Sunsets on the roof top balcony with drinks and bitings will be a memorable part of your stay! The house sleeps 10 guests in comfort but can sleep up to 13 if at least three are children in small beds. The house is not suitable for more than 10 adults.
You can access the creek from below the swimming pool, via a very pretty channel in the mangroves that is easily accessible and you can swim or SUP out to the creek (boards available for short or long term rental from Tribe Watersports). In the past, guests have swum one way and ' floated with tide ' the other, either out to the creek or back towards the house depending on the tides - best during the spring tides but please do check before as currents can be strong. Set over three levels the house is spacious with plenty of areas to chill out both inside and out.
The pool is flanked by a covered seating area and dining space as well as comfortable sun-beds. The ground floor is beautifully designed and includes an air-conditioned room with a TV that you connect your computer or fire stick to - no satellite TV available. Also on the ground floor is the kitchen as well as a twin bedroom with fitted mosquito net and ensuite bathroom.
The first floor features another comfortable sitting area along with two further spacious bedrooms, one twin and one double - both with unique ensuite bathrooms.
The bedroom on the 2nd floor is a large double with fabulous views and a large ensuite bathroom. This bedroom also has air-conditioning. A lovely covered sitting area on the first floor looks out over the pool area below.
On the second floor yet another place to hang out is an inside bar that leads out onto a further terrace to sit out and drink in the views.
A spectacular sitting area on the roof terrace affords amazing views out over the mangroves and towards Mida Creek. The sunsets from this position are magnificent. In addition to the main house there is a one bedroom guesthouse. The bedroom is a double, with air-conditioning, an ensuite bathroom and an enclosed patio. The house is staffed with a cook, caretaker and gardener and a night askari - there is a generator in the event of a power cut. The house and guesthouse sleep a maximum of 13 guests (where at least 3 are small children using the small extra beds in some of the rooms)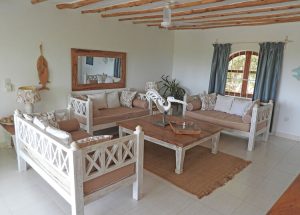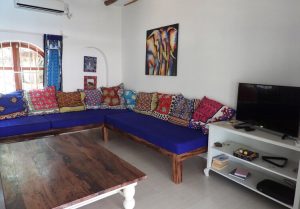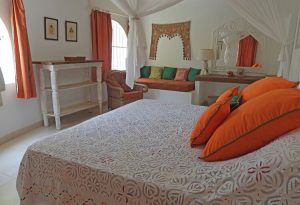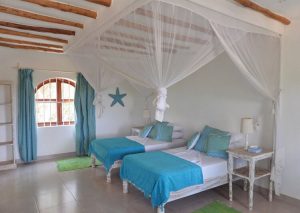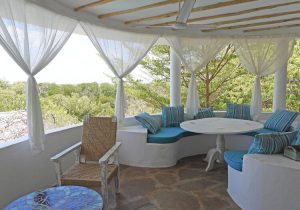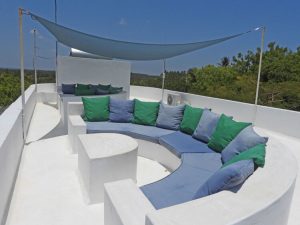 Price: Ksh 32,000 er night max 10 pax including children. For further details email: info@wpskenya.com or visit our website: www.Discoverwatamu.com
TEL: +254 715 786 737 or +254 42 23 32167