This October, Kenya's Premier Dance school Dance Centre Kenya is set to showcase Shujaa Stories. Through ballet, the production celebrates the extraordinary lives of heroes such as Anyango Nyalolwe, Untulo, Wangu Wa Makeri, The Makonde, Syonguu, Ireri Wa Irugi, Muyaka Bin Haji, Queen Amanirenas, Sultan Yusuf, Gasara Winn, Lenana, and Mekatilili Wa Menza, with plans to honor 50 more heroes in the coming years.
Shujaa Stories is an educational journey meticulously crafted by Dance Centre Kenya's senior company members, creatively interpreting Kenya's heroes' narratives through captivating choreography. Junior company members take the spotlight, ensuring even the youngest spectators are engaged, resulting in an immersive experience for all.
Dance Centre Kenya proudly announces a collaboration with the exceptional Kenyan composer, Andrew Tumbo, who is composing an entirely new score for Shujaa Stories Tumbo's musical expertise guarantees heightened emotional connections to each hero's story, making this production a harmonious celebration of Kenya's heritage.
What sets this performance apart is the live musical accompaniment at every show, intensifying the audience's connection with the narrative.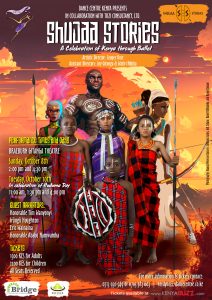 In partnership with Tuzi Consultancy, Ltd, the creators of Shujaa Comics, the ballet production boasts an original backdrop illustration by Martha Shavuya, masterfully brought to life by the artistic prowess of Robinson Omweri.
Shujaa Stories will feature narration by notable guests, including the honourable Tim Wanyonyi, adding an extra layer of depth to the immersive experience, forging a closer bond between the audience and the tales of valor and bravery.
Every hero requires authentic attire, and Dance Centre Kenya is delighted to collaborate with Bomas of Kenya to design and provide genuine costumes that will transport the audience to the heart of each hero's era.Enhancing the production's brilliance, experienced director Cooper Rust will lead Joy Gitonga and Watiri Nduba in their assistant directorial debuts, ensuring a dynamic and multifaceted performance.Watch Shujaa stories come to life at the prestigious Braeburn Gitanga Theatre. See performance schedule below:- Date: October 8th, 2023- Shows: 2:00 PM and 4:30 PM- Date: October 10th, 2023- Shows: 11:00 AM, 1:30 PM, and 4:00 PM Tickets exclusively on
KenyaBuzz
.