Are you a devoted bibliophile or an aspiring writer eager to immerse yourself in the enchanting world of African literature? If so, the
Macondo Literary Festival 2023,
returning from September 15th to 17th at the Kenya National Theatre, is the event you've been waiting for.
In 2019, Nairobi witnessed the debut of the Macondo Literary Festival, a literary celebration like no other. Hosted by celebrated author Yvonne Adhiambo Owuor and journalist Anja Bengelstorff, this festival was founded by the Macondo Book Society in Nairobi, drawing its name from the mesmerizing realm of "Macondo" in Gabriel Garcia Márquez's iconic novel, "One Hundred Years of Solitude."
The festival's primary objective is to foster and encourage broader public engagement with literature and its creators, recognizing literature as a catalyst for societal growth. After a pandemic-induced hiatus, the Macondo Literary Festival returned last year, and this year's edition promises to be a spectacular showcase of literary talent.
Dive into the rich tapestry of African literature with a special focus on Lusophone, Francophone, and Anglophone African countries. Engage in enlightening conversations, thought-provoking debates, and captivating readings on African histories and futures.
This year's festival boasts an impressive lineup of 11 artists, including the renowned Togolese-Italian novelist, Kossi A. Komla-Ebri, whose work has garnered international acclaim.
The festival schedule is a literary feast, featuring a wide range of events that cater to diverse literary tastes. From immersive spoken word poetry performances blending digital imagery and augmented reality to discussions on the significance of African graphic novels and historical novels in shaping our understanding of home and history, the festival offers something for everyone.
Writers from across Africa's language zones will come together to explore how their stories transcend linguistic boundaries, celebrating the shared identity of being African in today's globalized world.
Additionally, the festival will screen "The Battle of the Sacred Tree," a Kenyan comedy film that explores the clash between traditional beliefs and missionary zeal in a Kikuyu village.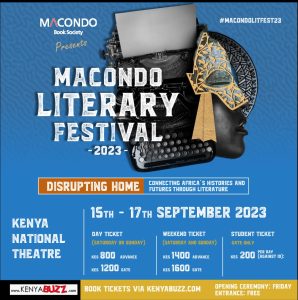 For those interested in engaging with authors, there are ample opportunities to meet literary luminaries such as Hemley Boum from Cameroon, Youssef Fadel from Morocco, Kalaf Epalanga from Angola/Portugal, and Kossi Komla-Ebri from Togo/Italy. These authors will share their unique perspectives and experiences, offering insights into their literary worlds.
The Macondo Literary Festival also shines a spotlight on Kenyan writers, featuring authors like Carey Baraka and Lutivini Majanja who will share their writing journeys and visions for the future of East African literature.
Notably, the festival presents a storytelling performance by Aleya Kassam, who tells the epic tale of one family's journey across generations, intertwined with the enduring presence of samosas, a symbol of home. The performance will be followed by a conversation about the Asian community's relationship with home in East Africa.
Aspiring writers will find inspiration and valuable insights in sessions exploring the migrant experience, the art of creating "home" in a story, and the role of memory and displacement in storytelling.
The festival delves into the concept of home in literature, examining how writers infuse their stories with elements of home and whether the act of writing itself becomes a home for the author.
The Macondo Literary Festival culminates with a performance by Juliani, providing a perfect musical finale to this literary extravaganza.
Lastly, don't miss "New Daughters of Africa," a conversation between British-Montserratian novelist Yvvette Edwards and Kenyan Caine Prize winner Makena Onjerika, where they discuss their contributions to an extraordinary anthology featuring 200 women writers of African descent.
Join us at the Macondo Literary Festival 2023 for an unforgettable journey through the world of African literature, where stories of home, identity, and the future come alive in the words of talented writers from across the continent.
Secure your tickets now
and embark on this literary adventure with us!