Weekend plan for the kids! Movie Jabber Entertainment is organizing their inaugural Video Game Convention, on Saturday, April 29
th
at the Sarit Convention Center. This convention promises to bring together the largest gaming communities in the country for an exciting day of various gaming tournaments across various devices, including consoles, laptops/PCs, and mobile phones.
Apart from the tournaments, there will be several other activities to keep kids entertained. They can explore various video games and VR experiences around the event floor in the free-play gaming section. If your older kids have a competitive streak and some "trash-talking skills", they can participate in the Main Event Tournaments, including FIFA 23 (on console PS5), Rocket League (on PC), and Call of Duty: Mobile.
There is also a LAN party where you can bring your own rig, an informative and practical Cyber Security Conference hosted by cyber security experts Dr. Bright Gameli Mawudor and Africahackon, and a Video Game Development Session by local industry players and budding developers looking at the local and global business of video gaming.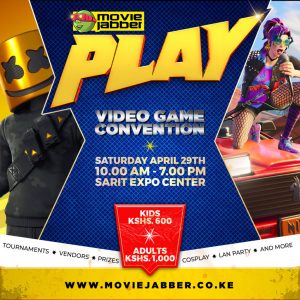 Cosplay enthusiasts can participate in the cosplay tournament and win a cash prize by cosplaying a canon video game version of their chosen character. Additionally, attendees can visit the anime-themed section hosted by the Otamatsuri team, featuring anime video games and exclusive Otamatsuri 2023 updates.
Ticket holders can also enjoy food and drinks within the event venue at special rates. If you're interested in attending the Video Game Convention, Call 0726 821899 for enquiries