June Gachui
and the stellar team of artists at
JGIP entertainment
know how to throw a concert! From their iconic tribute series honoring music legends to their fun 90s themed concert "The heng" now in it's fourth year.
This extraordinary musical extravaganza will transport you back to the 90s, and it proudly holds the title of Kenya's foremost nostalgic concert.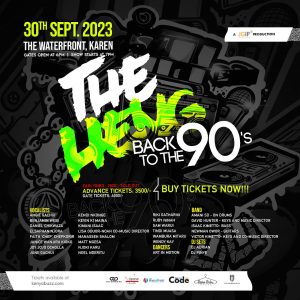 This weekend, on September 30, 2023, starting at 6:00 pm, The Waterfront Karen will come alive with the iconic sounds and styles of the 90s, spanning from grunge to hip hop, from R&B to techno.
"The Heng" has partnered with legendary artists and producers to revive the 90s with a unique twist that only we can deliver.
This fourth edition boasts an impressive lineup featuring Angie Gachui, Benjamin Webi, Daniel Chikwaza, Elsaphan Njora, Faith 'Chep' Chepkorir, Janice Wanjiru Kioko, Joy Jojo Ocholla, June Gachui, Kendi Nkonge-Mohol, Kevin 'K1' Maina, Kimani Isaac, Lisa Oduor-Noah (co-MD), Manasseh Shalom, Matt Ngesa, Noel Nderitu, Njoki Karu, Riki Gathariki, Ruby Ninah, Sam Warui, Tindi Muasa, Wambura Mitaru, and Wendy Kay.
Backing this incredible lineup are Amani SD on drums, Isaac Kimetto on bass, Newman Owor on guitar, Victor Kimetto on keys and co-MD, and David Hunter on keys and MD.
And let's not forget "The Heng" DJs, who will be back on the decks—DJ Adrian and DJ Pinye.
Prepare to embark on a nostalgia-filled journey with "The Heng," where the Retro Vibes will transport you to the 90s, rekindling the era's fun, energy, and excitement. Don't miss this golden opportunity to relive the heyday of pop music with "The Heng"!
Tickets on KenyaBuzz