The "Big Bad Wolf '' has been the quintessential antagonist in kids' literature. However, modern retellings of fairy tales have breathed new life into this classic villain and today, the wolf has become a staple in young adult novels and horror films, reminding us that the allure of wolfish creatures still holds a powerful grip on our imagination.
Yet, there is another aspect to the wolf that is often overlooked. These highly intelligent and social creatures, with their complex hierarchies and loyalty to their pack, elicit strong feelings of empathy and connection in many of us.
Award winning theater company
Aperture Africa Productions
, known for their entrancing productions including
Caught in the Net
put together an interactive play-
"
𝐓𝐡𝐞 𝐆𝐨𝐨𝐝, 𝐓𝐡𝐞 𝐁𝐚𝐝 𝐚𝐧𝐝 𝐭𝐡𝐞 𝐖𝐨𝐥𝐟" - a carefully crafted combination of two stories that every family knows and loves;
Little red riding hood
and
The Three Little pigs
.
[caption id="attachment_60357" align="alignnone" width="493"]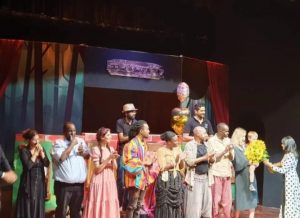 The Cast
[/caption]
The immersive show that took place over the weekend (March 3rd- March 5th) at the Oshwal Academy Junior High auditorium Parklands was "Kenya's first ever public family puppet theater".
In this pantomime-like production, Little Red riding Hood is a TikTok star and the wolf is a likable villain who sometimes gets comfort from grandma! Our piglets can speak Kiswahili words and there's candy for kids too.
It was a delightful, interactive play that had the audience on their feet cheering and on the stage helping the piglets with their dance number. The ensemble cast deftly inserted Kenyan phrases and names to these classics which was a nice twist
We can't wait to see which other classics
Aperture Africa Productions bring to life on stage.