As the long school holiday stretches ahead, providing an opportunity for growth and self-discovery, parents in Nairobi might be interested in a Teen Mentorship program tailored for teen girls From the 5th to the 9th of November 2023, the
Wellness Center in Lang'ata
will be buzzing with inspiration as
Women's Hope Kenya
hosts a transformative experience.
Open to girls aged 13 to 17, this mentorship program encompasses crucial aspects of a teenager's life. From Mental Health and Self-awareness to Self-esteem, Study Tips, Relationships, Social Media, and tackling Drug Abuse—participants will receive holistic guidance to navigate the intricate journey of adolescence.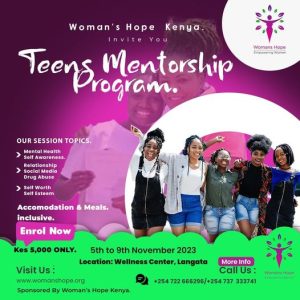 The program aims to empower young women, fostering resilience, self-confidence, and a positive mindset. With only a few slots left, parents are encouraged to seize this opportunity for their teens. Imagine your daughter emerging from the program with newfound strength, equipped with essential life skills.
To secure a spot for your teen in this empowering journey, call 0722666296 and book one of the remaining slots.