It's happening right under our noses but goes largely unnoticed - it's called child trafficking. According to the
Borgen Project
,
Kenya received the Tier 2 designation for human trafficking; the highest level in the African region.
This ranking refers to countries that are not fully compliant with the standards for eliminating human trafficking but are making efforts toward compliance, as defined by the
Trafficking Victims Protection Act
, a federal bill the U.S Congress passed into law in 2000.
The cities of Nairobi, Kisumu and Mombasa are where trafficking occurs the most. Traffickers traffic children for domestic servitude and sexual exploitation as well as forced labor, forced begging and forced marriage.
Supastaz
is an upcoming Kenyan film that will premiere in Cinemas on April 7th 2022. The film explores child trafficking in a bold, creative way that will endear it to Kenyan audiences.
It is produced and co-directed by Krysteen Savane who was the production manager on the film
Watu Wote (2017)
which received an Academy Award nomination
. Supastaz
packs a star studded cast of fresh talent and seasoned thespians.
In
Supastaz,
All Eva (9) and her friends want to do is to join the Supastaz Dance Competition, dance their best and win 150,000/-. So does BAB-G(10) and his friends on the other side of town. However, in the heart of Mathare, a child trafficking ring eyes the competition as a source for its next victims.
The children dance their hearts out but when they get off stage, they are pursued by kidnappers. The DCI Child Protection Unit is on the trails of one of the kidnappers. Will they get to the event and arrest the criminals on time? Will Eva be reunited with her friends
The cinematography of this 28 minute film is amazing and the script is well thought out and delivers the message it's supposed to in under half an hour.
Co-directed by Women in Film Awards awardee Oprah Oyugi,
Supastaz
cast are part of Anno's One Fine Day (AOFD), a children's arts program that empowers children through creative arts: dance, music, ballet, creative writing, drama acrobatic, African & contemporary dance.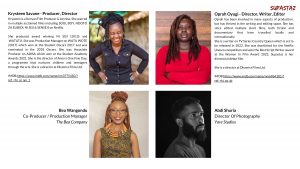 Supastaz
was shot on location in Mathare and Kibera in October 2021. More than 150 people participated in the making of the film. All the child actors are first-timers and are all part of the AOFD arts program in various disciplines.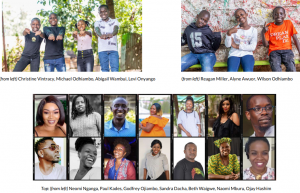 Adult leads include: iconic actress Neomi Nganga (Sue and Johnnie) who plays lead trafficking boss, Mukami Njiru (Shuga, Nairobi Half Life, Makutano Junction), Nyaboke Moraa (Kina), Ojay Hashim - founder Naam Festival Naomi Mburu (Kina) and Leah Agutu Asego who is a charismatic seasoned teacher.
Watch the trailer
here
.
BUY TICKETS FROM KENYABUZZ HERE