Theater lovers, we have exciting news for you! We're counting days until the start of the Kenya International Theatre Festival (KITFest). Founded in 2013, KITFest offers an immersive and enlightening theatrical experience that brings together diverse performances and educational opportunities.
The event aims to inspire and connect artists and audiences worldwide, inviting them to appreciate the magical essence of Kenya through tourism and cultural experiences.
KITFest has become a beacon of theatrical excellence in Kenya. Managed by the Kenya International Festival Trust (KITFT), this annual extravaganza has evolved into a global phenomenon, drawing thespians from various corners of the world, including Egypt, South Africa, China, Czech Republic, Spain, Switzerland, and the US.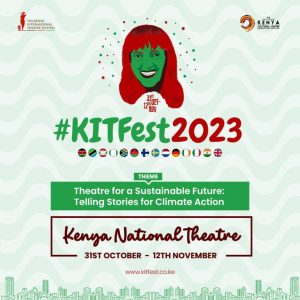 Scheduled from October 31st to November 12th, 2023, the 8th edition of the festival revolves around the theme "Theatre for a Sustainable Future: Telling Stories for Climate Action." The designated hashtag for this year's event is #KITFest2023. Here are the experiences lined up for this year:
Theme Nights
All participating countries get a dedicated evening to showcase their culture. While their theatrical performance(s) take centre-stage on that particular evening, they have an option to provide other unique cultural items in the form of food, clothing, music and dance among other experiences. Local respective consulates are commonly involved in the provision of these experiences.
See all the KITFest shows
HERE
Music nights
Each evening after the conclusion of theatrical performances and theme nights, KITFest will host an open air music stage setup for musical performances and DJ mixes into the night. First introduced at #KITFest2021, these daily music experiences were inspired by the need to provide quality entertainment for the fans who like to hang around the venue for socialisation and interactions with the visiting guests.
Tourism
Tourism has been a core inclusion into the KITFest programme since inception. Kenya is a world renowned tourist destination with an array of attractions ranging from historic sites, wildlife and beaches to preserved Savannahs and scenic geographical features. KITFest guests are assisted in accessing attractions of their choosing with certain conveniences packaged into the festival.
Market Visits
Souvenir shopping is one of the key highlights for the guests. They enjoy immersing themselves in our local culture through crafts, fashion, foods and related experiences. A dedicated guide is provided for each team to take walks around the town, stalls and market areas in the normally bright Nairobi weather in November.
Immerse yourself in this cultural experience by getting tickets on
KenyaBuzz