Attention all soccer enthusiasts! Are you ready to show off your skills on the field and compete against other talented players? If so, then it's time to sign up for the Under 14 Kids' Soccer Tournament!
This exciting tournament is open to schools, neighborhood teams, and clubs. All aspiring young soccer players participate and showcase their talent. This is a fantastic opportunity to test kids' skills against other talented players, make new friends, and have fun!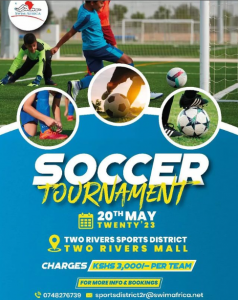 Each team will have the chance to compete in a high-energy, action-packed tournament.
The tournament will take place this Saturday, May 20
th
at Two Rivers Mall.
Call 0748 276739 to register. Registration closes 18/5/2023