Nestled in the heart of Loresho, Shamba has rapidly evolved from its humble beginnings in March 2019 into Nairobi's most coveted destination for brunches and events. This multifaceted haven boasts a charming farm-to-table restaurant, a delightful farm shop, an enchanting garden center, and an array of stunning event spaces, including an events barn and conference rooms.
Shamba proprietor Michelle Gilardi takes us on an exclusive tour of the establishment's newly opened barn, which now stands as their centerpiece event hall, capable of accommodating up to 300 guests for private events.
Drawing inspiration from the iconic red barns that have symbolized the rural American landscape since the 18th century, Shamba's barn pays homage to this timeless architectural marvel. Michelle reveals that these structures originated in New England, where farmers ingeniously applied a protective varnish composed of linseed oil, lime, or iron oxide. Under the sun's radiant embrace, the varnish transformed into the distinct red ochre hue that has since captured our collective imagination.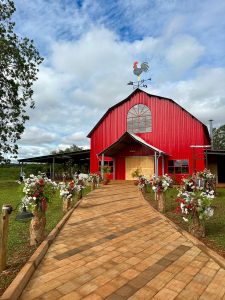 As we explore the barn, our attention is immediately captivated by the sight of a magnificent rooster perched atop a compass, serving as a striking emblem of Shamba's unique charm and character.
Stepping inside, we discover a spacious hall adorned with tasteful wooden furniture and an inviting fireplace in one corner. This cozy ambiance sets the perfect tone for memorable gatherings and cocktail evenings, while a well-stocked bar promises to delight patrons with an enticing array of beverages.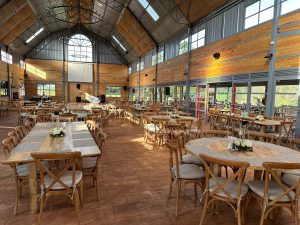 Adjacent to the grand hall, a lush lawn awaits, offering an idyllic space for lively parties and a safe haven for children to frolic and play.
Shamba's commitment to providing versatile options for all occasions is further exemplified by the presence of two well-appointed conference halls, each capable of accommodating up to 30 participants. Tailoring their services to individual client preferences, Shamba offers bespoke conference packages, ensuring a seamless and tailored experience.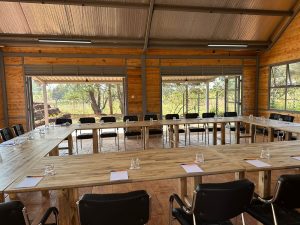 Shamba stands as an unparalleled outdoor haven that sparks the flames of boundless creativity. Whether you envision an intimate private brunch, a captivating outdoor wedding, an elegant black-tie affair in the barn, or an oasis for conferences away from the bustling city, Shamba ensures that your professional gatherings are as successful as they are memorable. For a glimpse of the sights and sounds that Shamba has to offer, check out our TikTok video.