The Korea Foundation unveiled a select group of ten teams that have been enlisted to participate in its 2023
Korea Foundation Public Diplomacy Program
. These ten teams are set to undertake a diverse array of public diplomacy endeavors across Asia, Europe, and Africa. Notably among these teams is "PLAY KK - AFROGAMEHADA," wherein creative director Joshua Wera, is actively involved. Last Friday 8th September, I was introduced to the intriguing ambitions of
Afrohada's project
, which promises to play a captivating role in enhancing mutual understanding and fostering stronger relations between Kenya and Korea.
What sets this card game apart is its dual nature, being playable both through the innovative realm of Augmented Reality (AR) and in its traditional physical form. This dual accessibility is truly remarkable!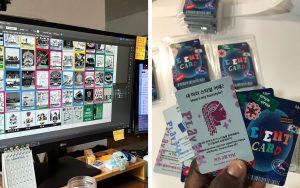 Dubbed as 'The pioneering project of game designs introducing new cultures to new generations,' the "Play KK" card game comprises four distinct card decks. The primary deck boasts a collection of 46 meticulously illustrated artworks, with 23 depicting Korean subjects and the remaining 23 showcasing Kenyan subjects. These artworks are thoughtfully categorized into five thematic groups: Historical Places, Food, Activities, Cultural Facilities, and the ECO Movement.
"Play KK" offers a flexible gaming experience, catering to a variety of play styles and preferences, whether as a physical card game or in the engaging realm of Augmented Reality (AR). During gameplay, participants are tasked with matching Kenya cards with Korea cards based on these predefined categories. Alternatively, players can opt for a second gameplay mode that challenges them to arrange their cards strategically to unveil a unique travel narrative. To embark on this journey, each player must first assume a distinctive character role from among Historian, Blogger, Chef, or UN Intern.
The Augmented Reality version of the game can be enjoyed by utilizing the ARTIVIVE application on a smartphone. This application enables users to scan the artworks featured on the backs of the cards, instantly immersing them in an AR experience. This feature provides an interactive encounter with the artworks, incorporating a range of visual and auditory elements. Many of these artworks undergo a captivating transformation from grayscale to vibrant color, while others are enriched with ambient sounds and music.
In Korea, the "Play KK" team will collaborate with students from Baekma Middle School in Ilsan to organize a captivating "Play KK" card game exhibition. Through the educational facets of the game, their aim is to cultivate global citizenship awareness among Baekma Middle School students.