The Rotary Club of Nairobi and Chandaria Foundation are hosting the 'Love & Peace Nature Musical'. This captivating showcase will take place at the Chandaria Auditorium University of Nairobi from June 1st to June 4th.
Get ready to embark on an unforgettable journey that harmonizes the realms of music, nature, and love. Under the resplendent theme of "Serenading Nature: Nurturing Environmentalists," this collaboration brings together the visionary minds of the University of Nairobi Travelling Theatre, the Rotary Club of Nairobi, and Friends of Nairobi National Park.
Why is this event so crucial? In an era overshadowed by the pressing issue of global warming, it is paramount that people join forces and take action to safeguard our environment for future generations.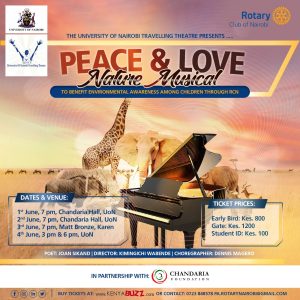 The Love & Peace Nature Musical seeks to inspire and ignite the conservationist spirit within the hearts of our youth. By fusing the captivating power of poetry, deeply intertwined with nature's essence, they aim to foster a profound connection between humanity and the world we inhabit.
Tickets are now available exclusively on KenyaBuzz.
.