Get ready for an amazing musical ride with Nairobi Orchestra this weekend at Sabis International School Runda. The concert kicks off on Saturday, November 11th, 2023, at 6:30 pm, and continues on Sunday, November 12th, 2023, starting at 3:00 pm. Conductor Bernadette Muthoni will lead the orchestra in a show that's sure to stick in your memory.
The playlist is stacked with great tunes, like "Vlatava (The Moldau)" by Bedřich Smetana. This piece takes you on a journey down the Vltava River, painting a picture of Czech landscapes and cities. It's a patriotic piece that really shows Smetana's love for his home.
Natasha Luturian, a talented flutist, will be in the spotlight for Vivaldi's Flute Concerto No. 3, "Il Gardellino." Her skill is set to make this concerto something special.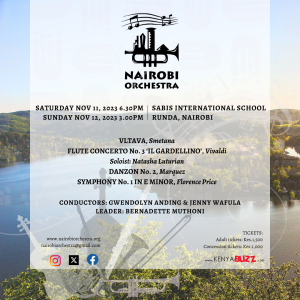 The concert also includes the lively "Danzón No.2" by Márquez, promising a fun and rhythmic experience. And don't miss the orchestra's take on Florence Price's Symphony No. 1 in E minor, a powerful piece by one of the first recognized African-American women composers.
Adding to the uniqueness of the event, female conductors Gwendolyn Anding and Jenny Wafula will be bringing their talents to the stage. Don't miss out!
Tickets on KenyaBuzz