Get ready for a geek extravaganza as Nairobi Comic Convention (NAICCON) returns to the Sarit Expo Center on Saturday, November 18th, through Sunday, November 19
th
2023. This annual gathering has become a cornerstone for African enthusiasts of all things geek and nerdy, bringing together the brightest minds and biggest personalities in the community.
One of Naiccon's enduring highlights is its robust gaming scene, and this year is no exception. This year NAIOCCON is calling all game developers to unleash their creativity and compete for a generous prize pool of Ksh 50,000! In the inaugural
Game Jam.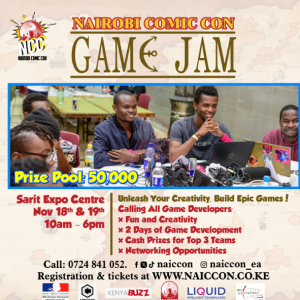 It's not just about the cash, though—the convention provides a unique platform for developers to connect, collaborate, and share insights. Plenty of networking opportunities as teams delve into the intricacies of game development, exchanging tips and tricks that elevate the entire community.
As Naiccon continues to evolve, so does its commitment to fostering innovation and camaraderie within the gaming realm. Join the excitement, showcase your skills, and be part of the ever-growing legacy that Naiccon embodies. The countdown to a weekend of geek greatness begins!
Register here for Game Jam
and buy
tickets on KenyaBuzz