In today's fast-paced world, it's essential for men to take a step back from the rigors of life and recharge themselves. This need for rejuvenation and personal growth is precisely what Man Cave, now in its third edition, aims to address.
Man Cave is a platform that recognizes the significance of men coming together to navigate life's challenges, both personal and societal, while building valuable networks and, of course, having some fun. The upcoming third edition of Man Cave promises to be an exciting and enlightening experience, focusing on two crucial aspects of a man's life: fatherhood and finances.
Man Cave's philosophy is rooted in the age-old tradition of men gathering to edify and strengthen one another. This platform acknowledges that everyone faces life's trials and tribulations, and taking time to recharge and revitalize is not a sign of weakness but a necessity. By fostering a community of like-minded men, Man Cave equips its participants with the right tools to navigate personal and societal challenges effectively.
Fatherhood is a topic of paramount importance in today's society. The third edition of Man Cave recognizes this and has dedicated a significant portion of its program to delve into the intricacies of being a father.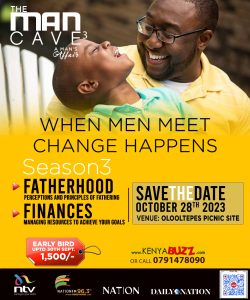 The discussions will revolve around the responsibilities, joys, and challenges of fatherhood. Whether you are a new dad, an experienced one, or someone considering starting a family, the insights shared at Man Cave will be invaluable. This edition is not just for fathers but for anyone interested in understanding the role of fathers in society and how they can contribute positively to their children's lives.
Finances are another crucial aspect of life that can be both daunting and rewarding. Man Cave's third edition aims to equip participants with the knowledge and tools needed to navigate their financial journeys successfully. From budgeting and investment strategies to wealth management, this event will offer practical advice from experts in the field. Whether you're just starting to manage your finances or looking to take your financial literacy to the next level, Man Cave has something for everyone.
Adding to the allure of this event is the presence of a distinguished keynote speaker, former Attorney General Githu Muigai. His insights into the legal landscape, combined with his experience in leadership roles, will provide a unique perspective on the challenges faced by men in today's world. His presence underscores the significance of Man Cave's mission to empower men with knowledge and community support.
Tickets on KenyaBuzz