Little Farmers Africa (LFA) revolutionizes farming by turning it into a thrilling children's show! Say goodbye to boring perceptions of agriculture and get ready to embark on an exhilarating journey where kids learn about the food they eat, witness its growth, discover its incredible nutritional value, and develop a deep appreciation for the world of farming.
Welcome to the "Little Farmers Show," a captivating program that introduces youngsters to the magic of caring for animals and nurturing plants.
LFA helps kids acquire essential life skills like problem-solving, teamwork, and hard work, but they'll also unlock the secret to becoming responsible and resilient individuals.
[caption id="attachment_61778" align="alignnone" width="337"]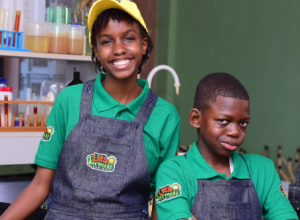 Little Farmers Africa TV hosts
[/caption]
LFA is calling all extraordinary children aged 9-15 If you're bursting with curiosity about the world around you and possess an unrivaled talent for storytelling, LFA wants YOU to host their show. Grab your camera, record a 2-minute video talking about your favorite food, and submit it via Whatsapp to: +254737700823 before June 3, 2023. Get ready to unleash your inner superstar!