St. John Ambulance and Kids FunScapes are joining forces on September 30th, 2023, to offer an invaluable opportunity for parents-to-be, new parents, and caregivers alike. The "Linda Watoto First Aid Training" event promises to equip attendees with life-saving skills and knowledge, ensuring the safety and well-being of the little ones in their care.
In a world where accidents can happen at any moment, having a solid grasp of first aid is not just a choice; it's a necessity. The Linda Watoto training event will cover a wide range of topics, from basic CPR techniques to handling common childhood injuries and emergencies. Participants will learn how to remain calm under pressure and act swiftly to provide crucial assistance when it matters most.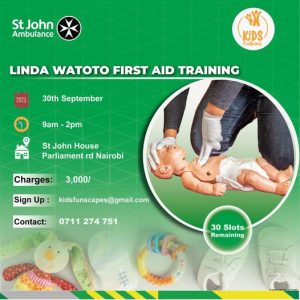 This event is not only for parents but also welcomes nannies, house managers, and other caregivers. After all, children's safety is a shared responsibility, and everyone involved in their lives should be prepared to respond effectively in times of crisis.
By attending Linda Watoto First Aid Training, you're not just gaining essential skills - you're investing in peace of mind. Knowing that you can respond confidently in an emergency can make all the difference, turning a potentially tragic situation into one where lives are saved.
Mark your calendars for September 30th, 2023, and join this educational and empowering event. Together, we can make our homes safer and protect the future of our children.
Register
HERE