Extensive and growing evidence confirms that learning through play provides the most effective support for children's education. From the moment they enter the world, children possess an innate curiosity and a natural inclination to experiment and learn through play.
By utilizing their discoveries, they not only shape their brain's structure but also enhance the skills required for continuous engagement and adaptable learning throughout their lives.
East Africa's premier institute for young scientists "Little Einsiteins" will be hosting their 7th Annual Science Fair, themed "LEARNING THROUGH PLAY: Play, the Catalyst for Innovation," taking place this Saturday, May 27th, 2023 at Aga Khan High School Nairobi.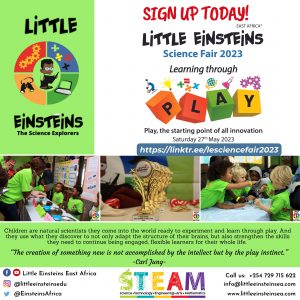 Little Einstiens is bringing together the best of young scientists across the country to showcase their innovative STEM projects. Join in on the fun and learning by getting your tickets from KenyaBuzz.
If you won't make it for the science fair, look out for event highlights later in the week on Little Einstein's social media and information on how to register your child/ren for the next one.