"Woza Albert!" which translates to "Come Albert!", is a satirical South African political play that first emerged in 1981. Crafted by the talented trio of Percy Mtwa, Mbongeni Ngema (Writer and Director of Sarafina) and Barney Simon, the play is a dynamic two-man show featuring 26 vignettes.
Set against the backdrop of the apartheid era, "Woza Albert!" delves into the imagined second coming of Jesus Christ, experienced through the eyes of a diverse range of black South Africans.
Conceived as a piece of protest theater, "Woza Albert!" boldly tackles the inequalities and oppression prevalent during the dark days of apartheid in South Africa.
The play's impact extended beyond the stage, as it was later adapted into a film, solidifying its status as a prime example of the Workshop Theatre movement in South Africa. Unsurprisingly, "Woza Albert!" earned its place as one of the most widely produced South African plays, both domestically and internationally.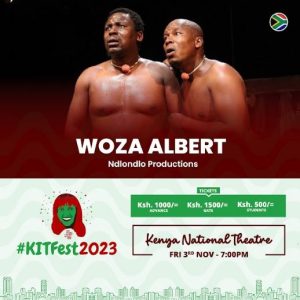 Praised for its skillful use of humor, the play manages to shed light on and critique the systematic oppression faced by black South Africans during the apartheid regime and to this day, resonates with Africans across the continent.
Prepare yourselves for a night of thought-provoking theater as a contemporary rendition brought to you by KITFest graces the stage at the Kenya National Theater (KNT) on Friday, 3rd November 2023, starting at 6:00 pm. Don't miss the chance to witness this powerful performance.
Tickets are available on KenyaBuzz.
*Image: Woza Albert Original Play 1980s