If your kid/s are into football and they'd hope to play pro someday, training with the best will give them a leg up.  Â
Football academy
AirFC
has a programme that helps Kenyan kids train with the best atÂ
La Masia academy
in Barcelona, Spain.
La Masia de Can Planes, usually shortened to La Masia, is a term used for FC Barcelona's youth academy.Â
The academy includes more than 300 young players. It has been an instrumental factor in Barcelona's European success, and produced several world class players including the legendary Lionell Messi.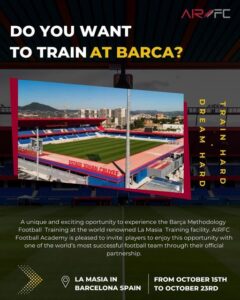 There are still a few slots open for their October trip to La Maisa.
If you'd like your kid to join in, email info@airfc.team