The Korea Foundation unveiled a select group of ten teams that have been enlisted to participate in its 2023 Korea Foundation Public Diplomacy Program. These ten teams are set to undertake a diverse array of public diplomacy endeavors across Asia, Europe, and Africa.
Notably among these teams is "PLAY KK - AFROGAMEHADA," wherein creative director Joshua Wera, is actively involved. Earlier this month, I was introduced to the intriguing ambitions of Afrohada's project, which promises to play a captivating role in enhancing mutual understanding and fostering stronger relations between Kenya and Korea. Joshua Wera lets us in on what KK is all about and why you should play it
Can you tell us more about the inspiration behind "Play KK - AFROGAMEHADA" and how the project came into existence?
The first idea came from our team leader, Hae Su Shin. She is a Korean lady who is deeply interested in African culture. She noticed that there is not much information about Africa in Korea and vice versa. She then suggested that we team up as artists and create a card game which can help the public from both sides (Kenya and Korea) to learn about each other.
The game is described as a bridge between Kenya and Korea. How do you believe it will contribute to enhancing mutual understanding and fostering stronger relations between the two countries?
The game is groundbreaking in terms of creating a better understanding between Kenya and Korea. This is because it features 23 items from each of the two countries and these items are spread across all categories of everyday life. Topics like food, leisure activity, travel, fashion, tourism, green technology are all captured in the cards
"Play KK" is unique in that it can be played both in traditional physical form and through Augmented Reality (AR). What motivated you to create this dual-accessibility feature?
Our choice to incorporate AR lies in the age that we are living in currently. We wanted to create a card game that fully exploits digital media to engage players. And the use of digital media is to boost its beauty and give more information about the artworks.
Could you elaborate on the educational aspects of the game, especially regarding its collaboration with Baekma Middle School in Korea? How do you plan to cultivate global citizenship awareness among students?
When we visited Baengma Middle School in Korea we played the card game with 14 year old learners. 14 is a very interesting age because that is the time people are very curious about their world, cultures, and life in general. It is also a perfect age to give life changing information to an individual. We told the young Korean students stories of Kenya through the game and advised them to not believe much of the negative things which they sometimes see in the media. They were happy to know that Kenya is a country just like their country, and has a vibrant culture and people who generally love life.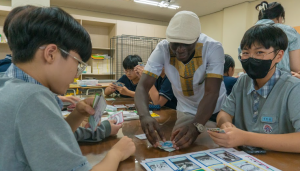 The game features four distinct card decks with artworks showcasing various aspects of Korean and Kenyan culture. How did you select the themes and subjects for these decks, and what role do they play in the game?
Correct! The main deck is called Playing Deck and has 46 cards in it. Then there are the Event Cards, Character Cards, and Extra Cards. Event Cards are designed to make the game dramatic. Players can use them to change direction of play, win or lose more cards. On the other hand, Character Cards are four in number and players have to select at least one of them to proceed. For instance, if a player selects a Character Card of a 'Chef' then they must create a unique travel story of a chef either in Kenya or Korea. Extra Cards are only for giving information and are not used to play the game.
"
Play KK" offers different gameplay modes, including matching cards and creating travel narratives. Can you explain how these modes work and what players can expect from each?
The two main types of card game players can attempt are: Travel Game and Matching Game. In a Traveling Game, there can be a minimum of 2 players or a maximum of four. Each player must select a Character Card before proceeding. And based on a player's chosen character, they will be required to use the cards to build an accurate travel story in Kenya or in Korea. The other type of game is called "Matching Game". It is simple and a bit more fun. Players are simply required to match their Kenyan cards with their corresponding Korean cards. For instance, a card with an image of Nairobi can be used to match a card with an image of Seoul.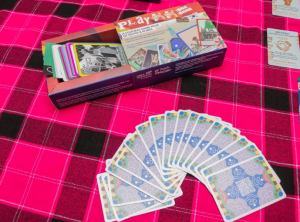 The Augmented Reality version of the game is brought to life through the ARTIVIVE application. Could you share some of the immersive experiences that players can enjoy through AR, and how does it enhance the gaming experience?
Artivive is a new AR company out to change the game. They have a platform whereby artists can transform 2 D artworks into 4 D and other dimensions. The platform also supports various elements of motion graphics and sound. Artivive enables artworks to indulge more senses of human beings and therefore can be very impactful when applied to tell stories that matter.
What challenges did you encounter while developing "Play KK," and how did you overcome them to create a game that appeals to a wide range of players, from children to adults?
Play KK is created through collaboration between Kenyan artists and Korean artists. The first hurdle we faced was our difference especially when it comes to how we approach artistic expression. Kenyan artists were a bit more driven by abundance of colors and vibrance, while Koreans presented artworks which only had one or two primary colors. A bulk of our work was also done through video calling over the internet and that wasn't easy because Kenya and Korea have a 6 hour time difference.
The project is scheduled to debut in Kenya with a special event at the Kenya National Theatre. Could you provide some details about what attendees can expect at this event and the interactions with students at the Nairobi King Sejong Institute?
During this exhibition, visitors will be able to experience our card game illustrations and images which move through Augmented Reality. They will also be able to try out our newly designed card game on the spot. We also have a live mural painting session where our artists will paint 3 murals which captures the spirit of friendship between Korea and Kenya. We hope that visitors of our exhibition will learn a lot of new things about Korea and Kenya, create new friendships, networks, and simply have fun
As the creative director, what message or takeaway do you hope players and participants will get from "Play KK," both in terms of cultural appreciation and the values of Kenya and Korea?
Personally I wanted this project to act like a love letter to all the emerging artists in Nairobi. And the message I intend to pass to them is that we need to urgently unite and proclaim the art scene in Nairobi. Art has to be seen and for it to be seen we have to get out there and create frequent sessions which can grow into festivals and established markets. Imagine an art festival in Nairobi which is started by artists from the underground and grows to national or global recognition. It is possible and that is the challenge I pose to the artists of Nairobi. Once we can run the art scene in this country we will not need to worry about issues like copyright or getting paid. Most of our needs will be taken care of based on our own terms.
Lastly, could you share some insights into the role of the Korea Foundation in sponsoring and supporting the "Play KK" project, and how their mission aligns with your project's goals?
It's important to mention that without Korea Foundation Play KK would have not been possible. Korea Foundation is a public diplomacy department under the Korean Ministry of Foreign Affairs. They funded all our activities throughout the project as one of the 10 teams they chose to support in 2023. Every year Korea Foundation identifies unique concepts which can promote public diplomacy between Korea and other countries, and proceeds to give them monetary support to actualize their goal. The program entered its 6th year in 2023.