What have your kids been getting up to during this infinite quarantine season? 11 year old Fred Junge from Dandora has been tapping into his creativity and putting his recycling skills to use.The ingenious Grade 6 student at Donna Hills Primary School Dandora has aspirations of one day becoming an architect. He's started early with his carton dollhouses.
The models mimic a two-storey mansion with a front porch and a balcony on the upper floor. They also feature a drive-in "parking space" attached on the ground floor.
Fred walks from Dandora Phase 5 to Nairobi CBD daily hoping to sell his Dollhouses for Ksh 400 a piece. As of August 30th, he's received 30 orders. Yay!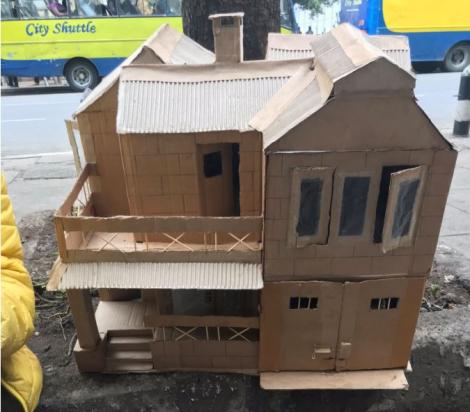 He is seeking an architectural mentorship so if you are one or you know someone and you are willing to help or if you'd like to make an order, call his big bro Joe on
+254727714696.
Think your children have what it takes to be Kidpreneuers? Here's how you can get them started:
Allow Them to Brainstorm
Some of the best products come from wild ideas, so don't put your parental brain limitations on your kids, let them dream big.
Research the idea
When researching the idea, have your kid find out what resources are needed, what the cost of doing business will be and, finally, what to charge. Set your child up for financial success: help him or her understand the relevant facts of the money-earning idea. Explain for example, the difference between income and profit.
Goal Setting
Help them formalize goals with a paper and pencil, or typed out on the tablet. Focused goal-setting teaches accountability.
Design a sales pitch
Start by having him or her write a simple sales pitch. Include the following: name, business name, the reason the earnings are needed, the benefit the product or service will provide, proof that others have used the service (even if that's you, as the first customer!), plus a call to action.
Marketing
Now it's time for your kid to determine how to reach the target audience and share the sales message. Here's a list of a few marketing methods that work for kids:
Emailing or texting friends and family

Making a catchy Facebook post (perhaps for a community group page) and encouraging others to share

Sharing the pitch on Instagram

Putting up flyers and posters around the neighborhood

Going door-to-door in your neighborhood

Setting up a stand on a busy street or at a local park
These methods are tried and proven to successfully market a kid-run business.
Build a support team
CEOs don't run their businesses alone, so why should your kid? As parents, you and your spouse should be your kidpreneur's biggest support; but that doesn't mean you'll do all the work. Some of the greatest learning opportunities come from experiencing failure. Be there to support your child and work through any disappointment and setbacks.
There are other ways, too, to add a "support team" to your child's business venture. Find a mentor, maybe a neighbor, already involved in your child's business category, in terms of a career. Friends can make great partners or employees; and working with an adult friend creates peer-accountability while keeping things fun.
Just start
The most critical step of all is . . . just START. Knock on that first door, send that first email. The intimidation of getting started is one of the biggest hurdles to overcome. But, as your child experiences tangible reward for his or her efforts, the confidence and momentum that result will propel your little kidpreneur past any fears.
Save
One of the biggest struggles your child may face is learning how to save money and reinvest in the business. Each time your kid brings in a little money from the new business, issue praise, but also encourage the updating of that bedroom goal poster, followed by a trip to the bank.
*Source:
entrepreneur.com
*Image: Twitter