Immerse yourself in the enchanting realm of live acoustic music at the 'Rawcoustic' Pink Edition. Calling all aficionados of authentic musical experiences to a music event awaits that promises to be a delight for your ears and spirit.
Step into the world of 'Rawcoustic,' a distinctive gathering where the true essence of music converges with unparalleled craftsmanship. This event is meticulously tailored for music lovers who appreciate the unadulterated and pristine form of musical expression, where each note and melody resonates with profound emotions.
Rawcoustic takes pride in providing a safe and family-friendly environment. Guided by the #keepitraw philosophy, the organizers are committed to maintaining an alcohol, substance, and smoke-free ambiance throughout the event. This commitment ensures that families can relish a day filled with music and bonding without any distractions, making it an ideal outing for music-loving parents and their children.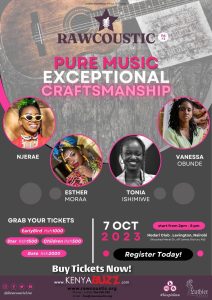 This Saturday, 7th October 202 make your way to the Hodari Club Lavington from 2:00 pm to 8:00 pm to become part of this extraordinary musical experience. The event will showcase captivating performances by female artists Njerae, Esther Moraa, Vanesa Obunde, and Tonia Ishimiwe for the Rawcoustic Pink Edition, a tribute to Breast Cancer Awareness Month.
Tickets on KenyaBuzz