Step into the enchanting world of Dance Centre Kenya (DCK) as they bring the magic of the season to life with their 7th Annual Christmas Production of the Nutcracker. Set to grace the stage at the Kenya National Theatre on the weekends of November 24th-26th and December 2nd-3rd, this timeless Tchaikovsky classic promises to transport audiences to a realm of holiday splendor.
The Nutcracker, a ballet that has stood the test of time, holds a rich history dating back over a century. Originally choreographed by Marius Petipa and Lev Ivanov with music composed by Pyotr Ilyich Tchaikovsky, the ballet made its debut in 1892. Since then, it has become a cherished tradition, captivating hearts worldwide with its whimsical narrative and breathtaking dance sequences.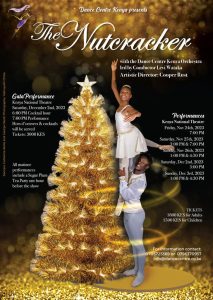 For DCK dance students, this production offers a unique opportunity to step into the shoes of ballet history, bringing to life the iconic characters and graceful movements that have defined the Nutcracker for generations. As the performers take the stage, the audience will be treated to a spectacular event that has become synonymous with ushering in the festive spirit.
Adding an extra touch of delight, all matinee performances will feature a sugar plum tea party one hour before the show, creating a festive atmosphere for families and friends to enjoy together. For those seeking a more glamorous experience, the gala night on December 2nd, 2023, promises an evening of elegance with hors d'oeuvres and cocktails served from 6:00 pm onwards.
Dance Centre Kenya invites you to embrace the magic and celebrate the season with them by getting your tickets on KenyaBuzz.