The Nairobi Design Week, East Africa's premier design festival, is making a comeback and inviting submissions for its highly anticipated 2024 installment. Set to run from March 9th to March 17th, 2024, at the Opportunity Factory on Mbagathi Ridge in Karen, this marks the festival's ninth consecutive year celebrating creativity and innovation.
Under the banner of "We Got This," Nairobi Design Week 2024 aims to bring together creative minds from diverse fields. This event serves as both a platform for creatives to showcase their work and an opportunity for them to network and contribute to the thriving design landscape in the region.
Nairobi Design Week has consistently fostered a sense of community among creatives in East Africa. The 2024 edition is dedicated to reinforcing this commitment by uniting designers, artists, craftsmen, and innovators from all walks of life. Nairobi Design Week 2024 will serve as a melting pot of ideas and inspirations, encouraging participants to explore and collaborate.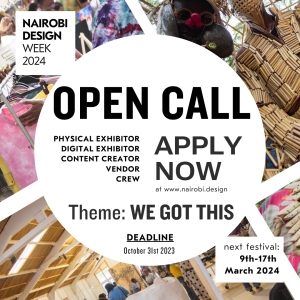 The call for submissions for Nairobi Design Week 2024 is open to a wide range of individuals and entities, including:
Physical and Digital Exhibitors: Whether you identify as a traditional artist, digital designer, or somewhere in between, the festival welcomes your submissions. Exhibitors are encouraged to align their showcases with at least two of the festival's core principles: Play, Grow, and Make.
Crew Members: If you're passionate about design and wish to contribute to the festival's production, consider applying as a crew member. This role provides a unique behind-the-scenes experience that allows you to contribute to the festival's success.
Content Creators: If you possess the skills to capture the essence of creativity through various media, Nairobi Design Week is on the lookout for content creators to document the event. Share your unique perspective and help expand the festival's reach to a broader audience.
Vendors: If you offer unique products or services related to the festival, Nairobi Design Week provides an excellent opportunity to connect with a diverse and engaged audience.
To participate in Nairobi Design Week 2024, interested parties must submit their applications via the festival's website before the October 31, 2023 deadline. Early submissions are encouraged to secure a coveted spot at this prestigious event.
Since its inception in 2015, Nairobi Design Week has played a pivotal role in nurturing the creative community in Kenya and East Africa. The previous edition was a resounding success, boasting over 400 participants and attracting 3000 attendees. Furthermore, the festival extended its reach to a global audience, with over 10,000 individuals participating online.
REGISTER