The Kenyan crime film "MTAA YANGU" is all set to make its big-screen debut on October 6, 2023, at the Anga Diamond Plaza in Nairobi. This cinematic experience promises to transport its audience into a world of suspense and intrigue. Under the direction of Likale Washington Muyonga, the film delves deep into the gritty underbelly of Mwiki Town.
Featuring a talented ensemble cast, with Makovo Mbatha as Gunner Kiprotich G, Sasha Orege as Wambui Kamau, Emily Nene as Catherine Njeri, and Mary Kinya as Nancy Lubanga, "MTAA YANGU" weaves an enthralling narrative that immerses viewers into the lives of its characters.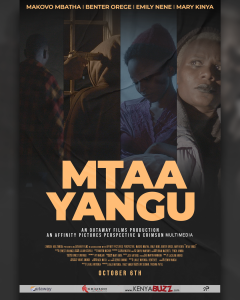 Plot of "MTAA YANGU"
The film's plot centers around Kiprotich, a local gang leader, and his crew who extort "taxes" from the residents of Mwiki Town. Amidst this turbulent backdrop, Gunner 'G' emerges as another crime lord, offering shelter and security to the town's inhabitants. However, tranquility is shattered when the Member of Parliament for the area, portrayed by Nathan Songa, and the Governor announce plans for foreign investment, leading to eviction notices being served to the residents.
Gunner 'G' is forced into a dialogue with the Member of Parliament, who appears to ignore the residents' plight, leaving him feeling betrayed, especially after helping the MP gain power through illicit means. Matters take a darker turn when the MP conspires with two corrupt police officers, Lurther and Ben, to plot Gunner 'G's murder.
Amidst this chaos, Gunner 'G' finds love in Catherine Njeri, a resident of Mwiki Town. Tragically, one of his gang members, Ras, is responsible for the death of Njeri's brother during an operation. Overwhelmed by guilt and fearing the consequences, Gunner 'G' conceals the truth from Njeri and decides to send her to medical school as a way to shield her from the harsh reality. To salvage his relationship with Njeri and secure the future of the Mwiki residents, Gunner 'G' hatches a daring plan to steal money from the MP. The question looms: will he succeed?
Where to Experience the Action
"MTAA YANGU" guarantees an electrifying cinematic journey, blending action, suspense, and intricate relationships. With its exceptional cast and compelling storyline, the film is a must-watch for Kenyan cinema enthusiasts.
Tickets for the premiere of "MTAA YANGU'' can be obtained for KES 1,000 exclusively on KenyaBuzz. The gates will open at 7:30 pm. Additionally, the crime film will be screened at various prominent cinemas across the country, including Westgate Cinema, Prestige Cinema, Century Cinemax Junction Mall, Century Cinemax Garden City, Century Cinemax Two Rivers, Century Cinemax Sarit Centre, Motion Cinema Greenspan Mall, Anga Cinema CBD, Anga Cinema Diamond Plaza, Anga Cinema Panari Centre, Rupa Cinema Eldoret, Mega Cinema Kisumu, and Nyali Cinemax Mombasa.